5 Places To Visit This Halloween In Hong Kong
5 Places To Visit This Halloween In Hong Kong: the scary decorations, yummy treats and of course the costumes that are becoming ever so creative every year! Impress your peers with your impressive costumes and have fun at these terrifying Halloween events during this Halloween In Hong Kong.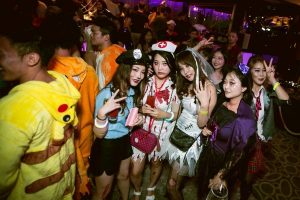 Let's start off with Hong Kong's most notorious nightlife district, Lan Kwai Fong (also known as LKF). Known for its flamboyant parties, bars, and restaurants, Lan Kwai Fong offers spooky theme nights, eerie drinks and special dishes. According to a poll on the GingFood Facebook Page, GingFoodies have indicated that the biggest discotheques, such as Volar, Dragon-i and Rula Bula organize huge parties during Halloween. Those lavish Halloween parties usually boast with famous international DJs, open bars and prizes for the best Halloween costume.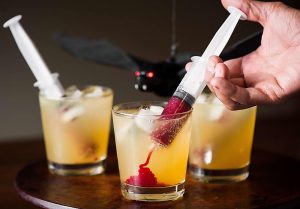 However, if you're looking for something a tad more local than the expat-dominated bars of Lan Kwai Fong and Wan Chai, you have to venture off Hong Kong Island to Knutsford Terrace in the Tsim Sha Tsui district. According to GingFoodies, Knutsford Terrace offers a wide variety of bars and restaurants reflecting almost every aspect of Hong Kong's confusing intercultural identity. Here are 5 places that Gingfoodies have recommended for this Halloween, all of which with a different feel.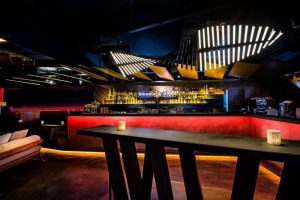 From its neon lights, colorful video animations on the screen behind the bar and colorful lights that illuminate the bar, dimly lit tunnel opens onto a 7,500 square foot rectangular dining room, divided into three areas: the main dining room seating at least 100 people.
Doors open from:

10:00pm

Online Early Bird Tickets

: HK$250

At the Door Tickets:

HK$480

Table Package:

HK$5000 – HK$12000

Ce La Vi serves contemporary Asian cuisine, with a strong influence on Japanese elements and some elements of Southeast Asia. This Halloween, CÉ LA VI will turn into an out of this world realm. Would you dare to enter?
Doors open from:

10:00pm

Online Early Bird Tickets

: HK$150

At the Door Tickets:

HK$200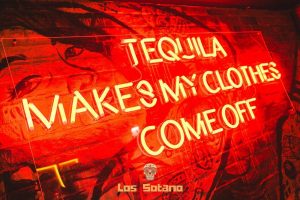 From subdued lights to Mexican murals inspired by the graffiti on the walls, to the famous neon sign "Tequila Makes My Clothes Fall", you know you'll have a good night's sleep. It's time to pull out the polyester, platforms, and pentagrams. We are calling all super-freaks to descend our staircase into a night feverish with excitement for danceable hits, prizes for best costumes, and cocktails at the ready.
Doors open from:

10:00pm

Online Early Bird Tickets

: HK$150

At the Door Tickets:

HK$200

This Year Aqua Spirit is doing it big for Halloween, hosting a " The Addams Family "themed party. Located on the 30th floor of the One Peking skyscraper on Tsim Sha Tsui's waterfront, Aqua Spirit is like a cocktail-filled crystal palace with a sloped glass roof on one side, offering breathtaking views of Victoria Harbor and the skyline of Hong Kong Island.
Doors open from:

10:00pm

Online Early Bird Tickets

: HK$200 (includes one glass of champagne)

At the Door Tickets:

HK$250 (includes one glass of champagne)

Hong Kong's new Peruvian culinary destination, ICHU TERRAZA. The rooftop bar, inspired by the urban jungle, serves a range of handcrafted cocktails, as well as selected wines and spirits.
Doors open from:

7:00pm

Online Early Bird Tickets

: HK$600

At the Door Tickets:

HK$650
Before the party!
Halloween. It is the only night where you can truly walk through Lan Kwai Fong dressed as a walking abomination and not a single soul will make fun of you. Don't be the only individual to show up to a party without a costume, complaining that you did not know where to buy a Halloween costume in Hong Kong. Whether you are tight on money, you choose to rent costumes or you are a "do it yourself" type of person, here are 5 places you should consider visiting before October 31st.
For the "Do It Yourself" type of individuals, Artland is your best choice. From fabric dyes to face paint to a range of materials and utensils, everything is planned. This store will not fail to make your exaggerated costume ideas a little easier!
There is something for everyone in Wan Chai's delirious party atmosphere, and this market is no exception. Whether it's cheap hair accessories or light sticks, there's something for everyone!
Brave crowds and tourists for an eclectic and interesting shopping experience. Presenting all kinds of cheap clothes, costumes, and accessories, the Ladies Market is a must for all aspirations in terms of costumes!
Another classic store offering a wide selection of traditional adult rental costumes. Fortune Costume also offers smaller items for sale. Although the selection on the website is not excellent, there are many more in the current store. You can also check if you are storing what you are looking for by calling in advance!
What is a GingFoodie?
GingFoodies are foodies that are members of the GingFood community and use the GingFood Mobile App.
Download the GingFood Mobile App here: http://bit.ly/GingDL
GingFood Website: https://www.gingfood.com